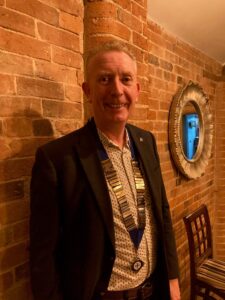 Matthew Jones - Chairman 2023 - 2024
Astley Sharples - Vice Chairman, 2023- 2024
Image coming soon
Market Harborough 41 Club - a destination for ex-Round Tablers since 1961
​We are pleased to welcome ex Round Tablers to 41 Club.
Market Harborough 41 Club meets on the 2nd Thursday of each month in and around Market Harborough. We warmly welcome visitors so if you want to come along to one of our meetings simply contact our Secretary via marketharborough41club@gmail.com
As well as monthly meetings we also:
have social events both as a Club and also including wives and partners
raise money for charity - we recently held Murder Mystery events raising over £3,000 for Dementia UK, Hope Against Cancer and Rainbows Children's Hospice
have an annual twinning event with a 41 Club and Round Table from Halle, around 10 kilometres from Brussels in Belgium
support National 41 Club by attending National 41 and 41 International conferences and meetings and, in 2022, organising the National 41 Club Car Rally  
​
Market Harborough 41 Club is part of the Market Harborough Round Table Family so if you are under 45 have you considered joining Round Table?
Round Table is the premier social club for men in their 20's, 30's & early 40's.
It's all about.... 
Trying new experiences you wouldn't otherwise have experienced.... 
With friends you wouldn't otherwise have met.... 
You can learn new stuff and.... 
You can put something back into the community.... 
It's not just local, it's a world-wide club.
Then, when you turn 41 you can join us!
Click here to find out more about Round Table.